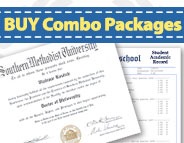 How to buy fake diplomas and transcripts together?
Since most diplomas are often awarded to students with a set of degree matching transcripts, we decided to put together packages allowing shoppers to get both items together. And because this allows us to ship and print everything at once, we can offer discount savings saving fake diploma and transcript packages from high schools and colleges, the best option for our customers. The process of purchasing a package is just like any other item we sell. First determine what level you need. As we discussed above, we offer packages ranging from high schools for all 50 USA states plus Canada to colleges and universities all over the world. From there, the order forms will collect specific details such as names and dates you want personalized onto your order so we can customize it for your liking.
How much will I save by ordering a diploma and transcript package instead of each item individually?
The savings of packages from high schools or colleges instead of getting each item own its own, will depending on what sort of package you're interested in. In most cases shoppers save about $20 by getting both items now and not waiting. The biggest savings can come in the way of shipping. Although we do offer free ground shipping throughout the lower 48 USA states, if you had to pay for two day rush or overnight delivery twice, it would be much cheaper to ship it all out at once for one simple shipping charge. This is why we suggest our packages of fake degrees and transcripts for new customers.